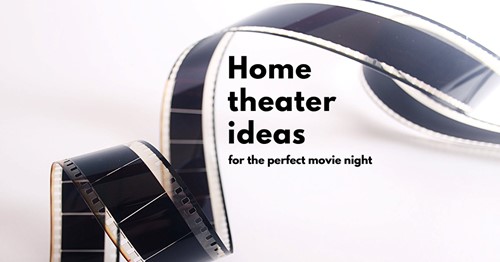 The home theater room has recently exploded as an entertainment venue of high interest. For homeowners wishing to bring the cinema experience into the comfort of home, there are few better ways to utilize extra room and invest in the latest technology.
Designing and shopping for a home theater might seem daunting, but it doesn't have to be. By following some basic guidelines, you can make every movie night as exciting and immersive as a night out at the theater.
Here are some home theater ideas to try:
Reduce outside light & distractions
Windows can be problematic for a home theater, but there are plenty of ways to mitigate the distraction of outside light. The simplest way is to hang curtains or blinds to block outside light & reduce glare. Try heavy blackout curtains for reliable darkness on command.
To avoid glare, limit the amount of reflective surfaces in your media room decor. A home theater can also benefit from matte paint finishes and soft surfaces to keep the visual experience at its best.
Acoustics & sound dampening strategies
Surround sound speakers are likely at the top of your list when planning a home theater room. However, without the proper acoustics and sound dampening in your movie room, your surround sound speakers won't reach their full potential.
To help, try hanging fabric or foam panels on the walls to limit reverb. You can also add a stylish area rug or install carpet for extra sound-dampening.
Create ambiance
While blocking out the glare from your windows is important, you don't want your theater to be completely dark. For optimal picture quality and to reduce eye strain, create a soft ambiance with LED strips & recessed lighting.
Using dimmable lights is a smart way to add flexibility to your space without compromising style or adding extra component clutter.
Make it comfortable
Home theater seating is another major aspect of creating a perfect space for a movie night. While traditional, stadium style seating evokes the true movie theater feel, consider alternative seating options to make sure everybody is comfortable.
Smart use of space is another factor to consider when choosing furniture. Opt for recliners, sectional sofas & other convertible seating for maximum flexibility.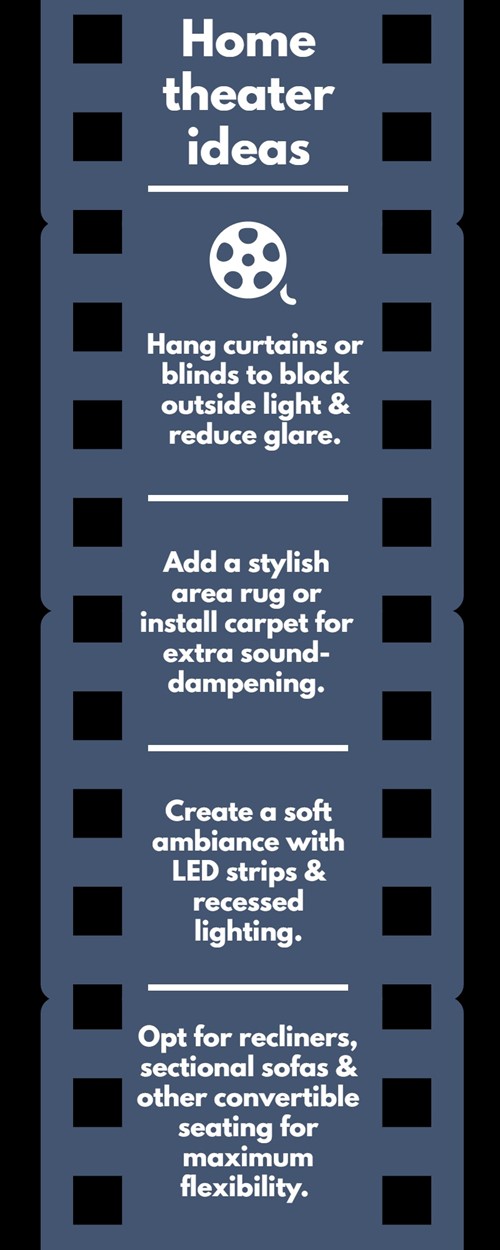 Are you ready to take your next movie night to the next level? Keep these basic home theater design ideas in mind for creating the ultimate movie watching experience without ever leaving home.